Updated: 25/10/22
Hardware⌗
My laptop is a Asus Tuf fx505. 16GB Memory, 256GB SSD, 1TB HDD, Nvidia GEFORCE GTX 1650.
The other stuff on the desk includes:
Monitor: Samsung. I used to drool over multi-monitor setups before but I just decided to get one monitor for now (this one is 21"). It is an IPS display, with the same 16:9 aspect ratio as my laptop. So doesnt look very different on both the screens

Keyboard: Keychron K2 V-2. I upgraded to a hotswap one with brown switches after my old loud one has some issue in warranty.

Headphones: Sony WH-1000XM3. Best purchase ever. Picked it up for a great discount recently. They are really comfortable to wear for 3-4 hours of continuous usage and the noise cancelling is just magical.

Mousepad: ASUS GM50

iPad Mini 5: I also have an iPad mini 5, I mostly use it for reading and writing with the apple pencil.

Ledget Nano S: To store my bitcoin. HODL!

Cannon 800D: Super cool, bang for buck camera. I have it since 2017 and I love it.
Software⌗
I run Manjaro which suits my laptop and doesn't break everyday without me touching it.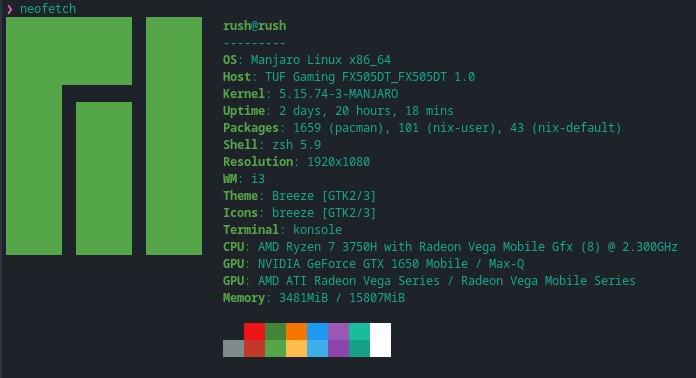 I use i3 as my window manager. i3 gives me more customizability than regolith and its all in my hand, so like it.
Some of the applications I use daily:
Browser: Brave.
Music Player: Spotify.
Notes: Notion & Apple notes.
Editor: VSCode & nvim.
Terminal: Alacritty with zsh and tmux.
You can checkout my dotfiles for the configuration here
Fonts⌗
My fav font is FiraCode!